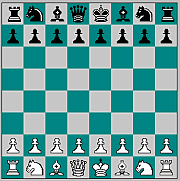 Chess is a game played by two players, who we'll call White and Black. It is played on a board of 64 squares. Each square can be empty or occupied by a piece. Object of the Game is to put your opponent's king in checkmate while keeping your king safe.

You can play Chess games and tournaments in internet for free or for money prizes.


To play:
1) Press 'Play chess online' now
2) Select 'Main Hall' link to enter playing room
We ask you to
login
to play Chess - you can play for free or for money if you buy
playing tickets
and
win
head-to-head tournament in Chess. In head-to-head tournaments (a game for stake) you play against other players. The winner takes all.
Read more about cash games
If you are a new player just invent your user name, password and start playing.
Learning chess:


Chess for children