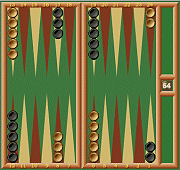 Backgammon games and tournaments are played with other real players worldwide through Internet. You can play with your friends on-line or join tournaments
Backgammon is a game of luck and skill. It is played by two people with 15 checkers each on a board consisting of 24 spaces or points. The Game is played so that you move your checkers in the direction from your opponent's home board to your home board. The checkers are moved according to rolls of the dice, equal dice mean "double" move. Each player tries to bring his own checkers home and bear them off before his opponent does, hitting and blocking the enemy checkers along the way. A match may consist from a single game or from several games, for example, till 5 points. Using a double cube in matches a player can obtain more than one point per games. Read detailed rules and practice to play better.
You can play multiplayer Backgammon games and tournaments online for free or for money prizes.
Try New! Backgammon HTML5 game to play in browser online for all platforms - desktop, android, apple, win phone - phones and tablets. See more Backgammon HTML5 game
To play Backgammon on iPhone, iPad or on Android or WinPhone login and select "green app" or "blue app" in Backgammon playing room list. HTML5 game allows you to play without installation.
see also these articles: