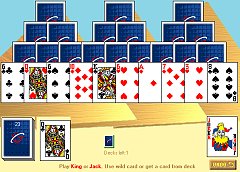 Tri Peaks or Tri Pyramids Solitaire is a popular solitaire card game, combining elements of Pyramid Solitaire and Golf Solitaire. Tri Peaks Rush Solitaire has a great scoring system, which really encourages you to keep playing, trying to get a better score.
The aim of Tri Peaks Solitaire is to move all the cards from the table to the discard, at the same time as maximizing your score. You can drop open cards, that one value above or below the top card on your discard pile ignoring suits, also a King can be moved onto an Ace, and vice-versa. For example, if discard is Ten and you have Jack open you can drop it.
To maximize your score in Tri Peaks Rush Solitaire, try to form long sequences of moves. The first removed card in one sequence gives you 10 points, the second one gives 20 points, then 30 points and so on. If you open a card from the stock this sequence starts from 10 again. You have one wild card (Joker) for all deals - it can be used to drop any card on it.
You can play online internet game Tri-Peaks Solitiare and win money prizes.
New! Tri-Peaks Solitaire HTML5 game to play in browser online for all platforms - desktop, android, apple, win phone - phones and tablets. See more Tri-Peaks Solitaire HTML5 game
To play Tri-Peaks Pyramids Solitare on iPhone, iPad or on Android or WinPhone login and select any cash tourney in Tri-Peaks Rush tournament list. HTML5 game allows you to play without installation.
see also Tri Peaks Solitaire articles:
Play Tri Peaks - Pyramids Solitaire online, have fun and win cash prize
We ask you to login to play Tri Peaks-Pyramids - if you get high score while playing any game you can win Arcade Tournament in Tri Peaks and Cash-Prize Pot. In Arcade-style tournaments you play and compete against other players. A player who gets the highest score in a Tournament wins and gets Cash-Prize Pot! If you are a new player just invent your user name, password and start playing.