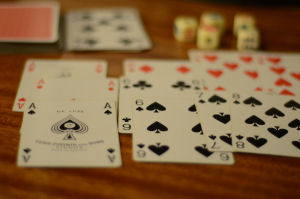 A lot of people do not understand that they can win real money by playing games online. Believe it or not, online gaming for money on the Internet is getting very popular. You can play in the privacy of your own home and do not have to worry about crowds and pushy waiters.
There is a number of other benefits related to playing online games for real money on the Internet. With the variety of games you can find a partner to play your desired card, board or other traditional game. As an example you can play such different games as Gin-Rummy, Backgammon, Canasta, Cribbage, Dominoes, Spades, and even Chess.
There are two ways of winning money in two-player games. The first one is a head-to-head tournament that is in fact a single game for stake. The winner takes all, so your skills are very important. If you are, for example, a strong player in Gin-Rummy why do not you try to play it online? The second way is to participate in multiplayer tournament, where prize pot is usually shared between first, second and third places. It looks like you play in a real ground tournament. We hold many tournaments daily in all popular games with the help of Tournament Directors.
If you enjoy single-player card games like Solitaire, BlackJack-Rush Solitaire, Poker-Rush Solitaire or Freecell you can compete with other players for the highest score and win a prize. You do not need to beat all players, but only players within your so-called Arcade Tournament, which is usually somewhere between two and four players.
There are also several quite popular single-player non-card games, like Mahjong Solitaire, Pharaoh's Treasure, Lines, Buckman - (a Pacman-style game) and other which you can play to win cash prizes for the highest score in Arcade Tournament.
If you like sport games you can try billiard games: Pool 8-ball, Pool 9-ball, Pool Rush (a single version pool), or a very popular Darts game.
To win more money you can play in daily or monthly Arcade Tournaments where you will compete with more players.
In order to participate in tournaments, you have to be very comfortable playing selected games on this site. In fact, it is an absolute requirement for players to play at least three FREE games on this site prior to participating in our Money-based Tournaments. You will also receive bonus Tickets after registration to play single-player games and participate in Arcade Tournaments.
See also: How to buy playing Tickets via PayPal