Play freecell online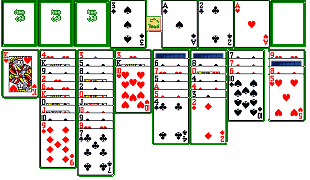 The object of the game is to use all cards to build up the 4 home cells in ascending order starting with the aces. Free cells (4 cells in the upper left corner) can be used as temporary placeholders for just 1 card at a time. Home Cells to be build are in the upper right corner. The bottom card in each of the 4 home cells must be an ace. The bottom card in each column is free to be moved. A free card can be placed at the bottom of another column if the last card in that column is one higher and of the opposite color. 4 free cells (upper left) are only used as an intermediate holding place where any free card can be temporarily placed in order to access cards buried in the columns.
You can play online internet game Frecell Solitare and win money prizes.
Play freecell online and have fun
... or try other games
[gin-rummy] [cribbage] [dominoes] [backgammon] [chess] [checkers] [canasta] [pool 8-ball] [pool 9-ball] [RPS] [spades] [solitaire] [freecell] [rush-21] [poker-rush] [lines-collapse] [pharaoh's treasure] [mahjongg] [pool-rush] [aqua-rush] [darts] [buckman] [tri-peaks] [pyramid-13]
play now! Rubl.com home rules mobile apps forum tournaments cash games news contact us