Play pool 8-ball online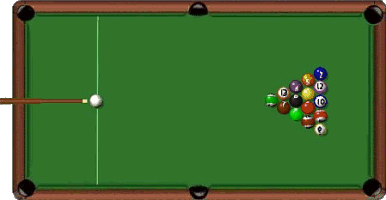 Pool eight-ball is one of the most popular billiard games played around the world.
The object of the 8-Ball Pool game is for one player to pocket their set of assigned balls 1-7 (solids) or 9-15 (stripes), and then to legally pocket the 8-ball.
When playing the 8-ball, the shooter must designate a pocket. The pocket is indicated by a downward pointing hand. Read pool eight-ball rules.
You can play online Pool 8-ball games and tournaments in internet for free or for money prizes.
To play:
1) Press 'Play pool 8-ball online' now
2) Select 'Main Hall' link to enter playing room
See Pool 8-ball screenshots (in a new window) 70% of actual size
... or try other games
[gin-rummy] [cribbage] [dominoes] [backgammon] [chess] [checkers] [canasta] [pool 8-ball] [pool 9-ball] [RPS] [spades] [solitaire] [freecell] [rush-21] [poker-rush] [lines-collapse] [pharaoh's treasure] [mahjongg] [pool-rush] [aqua-rush] [darts] [buckman] [tri-peaks] [pyramid-13]
play now! Rubl.com home rules mobile apps forum tournaments cash games news contact us