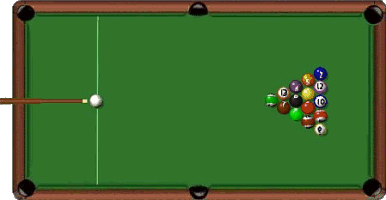 Pool eight-ball is one of the most popular billiard games played around the world.
The object of the 8-Ball Pool game is for one player to pocket their set of assigned balls 1-7 (solids) or 9-15 (stripes), and then to legally pocket the 8-ball.
When playing the 8-ball, the shooter must designate a pocket. The pocket is indicated by a downward pointing hand. Read pool eight-ball rules.
You can play online Pool 8-ball games and tournaments in internet for free or for money prizes.
We ask you to
login
to play Pool Eight Ball - you can play for free or for money if you buy
playing tickets
and
win
head-to-head tournament in Pool 8-ball. In head-to-head tournaments (a game for stake) you play against other players. The winner takes all.
Read more about cash games
If you are a new player just invent your user name, password and start playing.
Pool and Billiard Books:

Pool & Billiards For Dummies