Play Pyramid-13 Solitaire online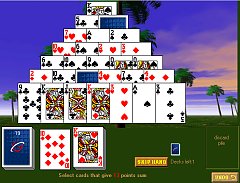 Pyramid-13 Solitaire is also called Solitaire-13 is a popular solitaire game, it is genuinely different form other solitaire games. It is a game with its own unique challenges and scoring system. Pyramid Solitaire is a base of several other solitaire game.
The aim or Pyramid-13 Solitaire is to clear pyramid by clicking open cards that sum up to 13 points. You can click on any open card to select or deselect it. When the point sum of selected cards equals 13, these cards are discarded. Pyramid solitaire uses one deck (52 cards). A pyramid of cards is dealt, consisting of 28 cards in 7 overlapping rows. Card values are: King:13 (discarded as a single card), Queen:12, Jack:11, Ace:1, number cards are worth their face value. If you played Pyramid Solitaire before, please note - on Rubl.com you play a special game variation, first of all you can have not only pairs of cards to sum 13, but also three, four of more cards, that sum 13 points. One Wild Card (Joker) for each deal is placed inside the stock. Joker can be used for clearing any card except King. You can select only "free" cards in Pyramid - if no cards are overlapping them. You can also select any or both cards from free cells - the open cards from the draw pile. Combine all these cards to get 13 points sum. Remember - your aim is to clear Pyramid, not the draw pile.
The game ends when all of the cards have been removed from the pyramid.
Like in other solitaire games at Rubl.com your final aim is to get the highest score. One clearing of any number of cards will give you 10 points, the next subsequent one will give 20 points, and the next clearing after that will give 30 points and so on. Rotating the deck subtracts 20 points. Completing each pyramid gives 50 points.
If you experience difficulties completing the current pyramid, you can use 'skip hand' button to continue with the next one (regular Pyramid-13 tournaments are 2-deck games).

You can play online internet game Pyramid-13 Solitiare and win money prizes.
Play Pyramid-13 Solitaire online, have fun and win cash prize
To play:
1) Press 'Play Pyramid-13 online' now
2) Then press 'Play now' button to enter playing room
See Pyramid-13 solitaire screenshots (in a new window)
... or try other games
[gin-rummy] [cribbage] [dominoes] [backgammon] [chess] [checkers] [canasta] [pool 8-ball] [pool 9-ball] [RPS] [spades] [solitaire] [freecell] [rush-21] [poker-rush] [lines-collapse] [pharaoh's treasure] [mahjongg] [pool-rush] [aqua-rush] [darts] [buckman] [tri-peaks] [pyramid-13]
play now! Rubl.com home rules mobile apps forum tournaments cash games news contact us