Introducing Tri-Peaks Solitaire to play in browser - for all platforms - desktop, android, apple. HTML5 Tri-Peaks game or Pyramids Solitaire Rush game to play with other players online. You can play the same Tri-Peaks Solitaire game on almost all devices.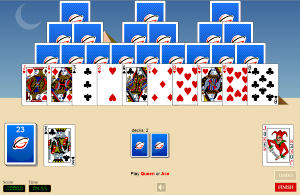 Tri-Peaks (or Tree Pyramids, Three Peaks) Solitaire is a Solitaire or Patience card game for one player, a combination of Golf and Pyramid solitaire games. It is a card Solitaire of a Rush-type, where you get additional bonus points for the time. To win the game clear the three pyramids by clicking on cards that are 1 point higher or 1 point lower than the top open card in discard pile.
Let us introduce the new Tri-Peaks Solitiare HTML5 client to play the same Tri Peaks or Pyramids game online on our servers. Now you can play a browser game on any computer platform, including Windows desktops, Apple devices, such as Apple computers or iPhone and iPad, Android phones and tablets and also Windows mobile devices. You can play Tri-Peaks card game even on your TV if it is connected to Internet. The same login used for all the games. All modern browsers supported: Chrome, FireFox, IE, Edge, Opera, Safari and so on.
You play Tri-Peaks Rush Solitiare card game inside your browser without any additional installation. Only internet connection is required. We plan to add more games on the same HTML5 technology very soon. Try it now and enjoy the game. To move cards on phones and tablets just touch the required card on the screen by your finger, on desktops - click a card by a mouse.
Login, select 'play Tri-Peaks Solitiare online', then choose the appropriate tournament game and play. A player with the best score in Tri-Peaks Solitaire tournament will win this arcade-type tournament